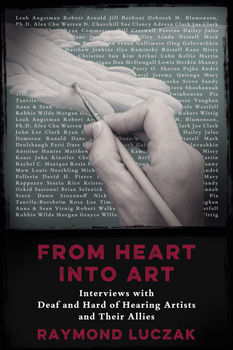 From Heart into Art: Interviews with Deaf and Hard of Hearing Artists and Their Allies.
Raymond Luczak.
208 pages.
6x9 trade paperback.
ISBN: 978-1-941960-01-1
$19.95

Order your copy now
(with FREE shipping)!

(For international orders,
please use this link instead.)

Raymond Luczak is the author and editor of 18 books, such as How to Kill Poetry and the award-winning novel Men with Their Hands. He lives in Minneapolis, Minnesota.
For over a decade, Raymond Luczak, author of Silence Is a Four-Letter Word: On Art & Deafness, has been interviewing Deaf and hard of hearing artists and their allies about their creative and arts accessibility work. This volume features over 70 people sharing what it means to be an artist who happens to be different.

"When I was little, I never really quite questioned all those millions of sound norms I'd inhabited." —Christine Sun Kim, Non-Traditional Composer

With the vast bulk culled from his nine years of interviewing artists for SIGNews, Luczak has added 19 new interviews that offer contrasting views against historical snapshots still relevant to artists everywhere. These lively interviews provide new insights while bringing the reader closer to understanding the extraordinary talents of the participants.

"It was important to go through that period of rage and rebellion, but is it worth sustaining forever?" —Jeremy Quiroga, Sculptor and ASL Poet

Interviewees include: Leah Angstman * Robert Arnold * Jill Beebout * Deborah M. Blumenson, Ph.D. * Alex Chu * Warren N. Churchill * Sue Clancy * Adrean Clark * Joe Clark * John Lee Clark * Ryan Commerson * Bill Creswell * Perrine Dailey * Jules Dameron * Ronald Dans * Jennifer Dans-Willey * Linda Dratell * Mark Drolsbaugh * Patti Durr * Bex Freund * Frank Gallimore * Oleg Golovushkin * Antoine Hunter * Matthew Jenkins * Ilya Kaminsky * Russell Kane * Missy Keast * John Kinstler * Christine Sun Kim * Arthur Luhn * Kellie Martin * Rachel C. Mazique * Rosie Mazique * Dan McDougall * Lewis Merkin * Shanny Mow * Louis Neethling * Michael Northen * Patty O. * Sharon Pajka * André Pellerin * David H. Pierce * Michael Pimental * Jeremy Quiroga * Mary Rappazzo * Stacia Rice * Kristen Ringman * Nancy Rourke * Steve Sandy * Orkid Sassouni * Brian Selznick * Ethan Sinnott * Louise Stern * Shoshannah Stern * Dawn Stoyanoff * Nick Sturley * Charlie Swinbourne * Pia Taavila-Borsheim * Rosa Lee Timm * Madan Vasishta * Vanessa Vaughan * Anna & Sean Virnig * Robert Walker * Cynthia Weitzel * Michele Westfall * Robbie Wilde * Morgan Grayce Willow * Pamela E. Witcher * Robert Wittig