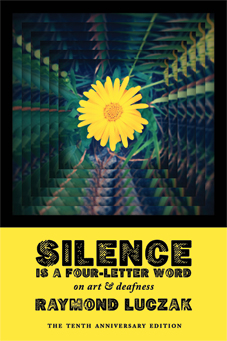 The tenth anniversary edition above replaces the book below, which The Tactile Mind Press published in 2002. It went out of print in 2005.

Silence Is a Four-Letter Word: On Art & Deafness (The Tenth Anniversary Edition).
ISBN: 978-0-9798816-3-3
5x8 trade paperback.
160 pages. $17.95

You can order the book directly from Handtype Press right here!

(For international orders,
please use this link instead.)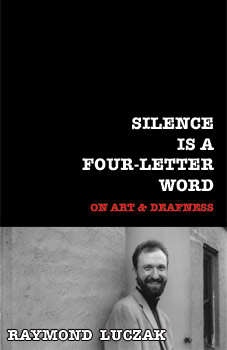 "MUSIC IS A UNIVERSAL LIE."

In 2002, Raymond Luczak handed us his call to arms for deaf artists everywhere. Ten years later, he revisits the book that challenged assumptions about being a deaf artist. Has anything changed? Yes and no.

"ART IS RISK."

"Written in the form of quick bursts of opinion arrived at over his many years as a poet, playwright, and filmmaker, Luczak seeks to shake deaf artists out of the cages built by the hearing world . . . There are plenty of opinions to argue with in this volume. Yet Luczak calls us to ask important questions of ourselves." — Emily Drabinski, Out

"WE NEED TO DISCUSS WHY POETRY SUCKS."

Luczak's meditations on what makes art "art" and deafness "deaf" asks artists—whether they are deaf or not—everywhere to rethink observations on their work and live differently. This tenth anniversary edition incorporates new observations made over the past decade.

"A penetrating account of the artist and his muse." — Harlan Lane, author of When the Mind Hears: A History of the Deaf

A new clip featuring the author talking about the book is forthcoming.

Ebooks are available for the iPhone, iPad, iPod touch and Mac as well as the Kindle.