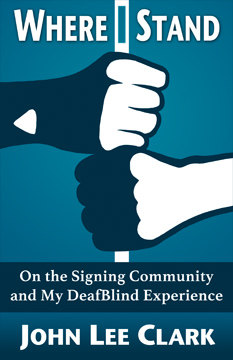 Where I Stand: On the Signing Community and My DeafBlind Experience.
John Lee Clark.
126 pages.
5.5 x 8.5 trade paperback.
ISBN: 978-1-941960-00-4
$14.95

Order your copy now
(with FREE shipping)!

(For international orders,
please use this link instead.)

John Lee Clark is the editor of the anthologies Deaf American Poetry and Deaf Lit Extravaganza. He lives with his wife and three sons in Burnsville, Minnesota.


"I love being DeafBlind and would not change it for the world."

This collection of essays from one of the country's leading voices on issues facing the signing community appears at a time of troubling trends and exciting new developments. Through his lucid and accessible prose, John Lee Clark delves into questions ranging from why hearing parents of Deaf children don't sign to how written American Sign Language will change the course of Deaf literature. As a second-generation DeafBlind man, Clark also takes us on a tour of his experiences as a student, father, husband, and "client" of special services. Filled with startling observations and unapologetic assertions, Where I Stand challenges and broadens readers' understanding of an important but often overlooked community.

"Disability is everywhere. It is, in fact, universal, for to be human is to be disabled."

"The number of culturally Deaf and DeafBlind writers who are prepared to speak out is frighteningly small. I am delighted and proud to include John Lee Clark in this group. Even if you disagree with him, I urge you to read his book. It's the red pill—take it. It's worth it." — Michele Westfall, Deaf advocacy columnist

"It's an exciting time to be DeafBlind."

"John Lee Clark's Where I Stand is a pointed and poignant confrontation with society's perception of 'disability.' In these precarious and turbulent times, his essays are bedrocks of sanity and hope." — Christopher Jon Heuer, author of Bug: Deaf Identity and Internal Revolution


Please email the publisher directly (handtype-at-gmail-com) for more information about the Braille edition.