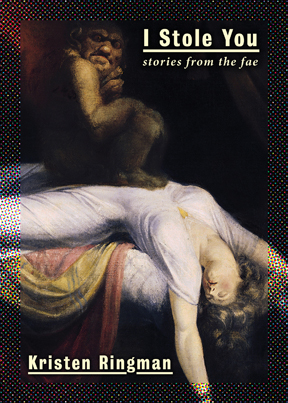 I Stole You: Stories from the Fae.
Kristen Ringman.
116 pages.
5 x 7 trade paperback.
ISBN: 978-1-941960-00-4
$15.00

Publication date: July 15, 2017

Preorder your copy now
(with FREE shipping)
and get it by the end of June!

(For international orders,
please use this link instead.)

Kristen Ringman is the author of Makara: A Novel and the editor of Everyday Haiku: An Anthology. She lives in New Hampshire.


You might get stolen too.

In these wide-ranging stories told from the perspectives of a Thai ghost, an Irish fairy trapped in a dog's body, a crow fae, an Icelandic birch tree elf, a dream thief, and other shapeshifting creatures, Kristen Ringman examines whether these fae would love a human or kill them after a close look into their hearts.

"Ringman achieves a haunting, sexy, and visually stirring collection that explores the tension of identity, longing, and the intricacies of connection and obsession in this series of beautiful, complicated settings populated by a both magical and deeply frail, human cast. She effortlessly severs the line between mythology, the supernatural and practicality, and the reader recognizes that desperation to be known, to be understood, to be considered unique to an otherworldly presence, and to ourselves." —Hilaree Robinson, co-author of The Distance

"The true wondrousness of Fae is as sly as it is innocent; it is magical and grounded, brutal and graceful, edgy and tender. Through a blend of fantasy, horror, and magical realism, Ringman digs around in the human condition, unearthing truths of the psyche, the body, and the spirit." —Kate Evans, author of Call It Wonder: an odyssey of love, sex, spirit, and travel

"Dark and haunting, yet beautiful and hypnotic. Ringman brings poetry and beauty even to the monstrous." —Christopher Jon Heuer, author of Bug: Deaf Identity and Internal Revolution