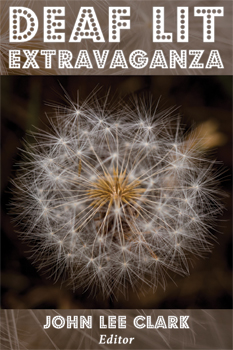 Deaf Lit Extravaganza.
John Lee Clark, Editor.
244 pages.
6x9 trade paperback.
ISBN: 978-0-9798816-7-1
$24.95

Get your copy now
with FREE shipping!

(For international orders,
please use this link instead.)

John Lee Clark is a deaf-blind writer living in Minnesota. His other books are Where I Stand: On the Signing Community and My DeafBlind Experience and Deaf American Poetry.
This celebration of short stories, poems, and essays gives us a glimpse into the Deaf signing community, something that literature by hearing authors featuring deaf characters has rarely done. Between these covers, a Deaf couple fights over their son's language use, an Australian woman joins the community as an adult, a Deaf woman's body is fished out a dumpster, and a British Deaf poet wants to keep "zombies"—hearing people—out. The range of perspectives is astonishing, including opposing views. In one story, a hearing journalist tells us about the infamous Milan congress of educators who banned sign language in 1880, while in another story, a Deaf woman tells us what it's like to have a hearing journalist interview her and her husband for a "human interest" story. Even in pieces that are about just one Deaf person, readers get a powerful sense of life in one of the most vibrant and least understood communities.

Its 36 writers include Andria Alefhi, Alison L. Aubrecht, Veronica Bickle, Teresa Blankmeyer Burke, Amber Ceffalio, Karen Christie, John Lee Clark, Willy Conley, T. K. Dalton, Mark Drolsbaugh, Donald Grushkin, Frank Gallimore, Susan Hajiani, Kristen Harmon, Christopher Jon Heuer, Paul Hostovsky, Karen Lloyd, Raymond Luczak, Dominic McGreal, Lauren Ridloff, Kristen Ringman, Curtis Robbins, Sarah Segal, Dean Sheridan, Robert Siebert, Eddie Swayze, Pia Taavila-Borsheim, Stephen Tendrich, Michael Uniacke, Clayton Valli, Michele Westfall, Donna Williams, Morgan Grayce Willow, and Pamela Wright.

Ebooks are available for the iPhone, iPad, iPod touch, and Mac as well as the Kindle.