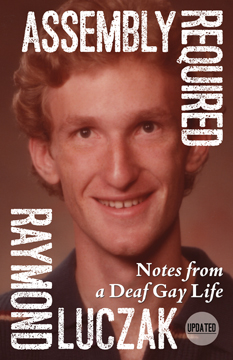 Assembly Required: Notes from a Deaf Gay Life (Updated).
Raymond Luczak.
122 pages.
5.5 x 8.5 trade paperback.
ISBN: 978-1-941960-12-7
$16.00

Order your copy now
(with FREE shipping)!

(Please note that the book should ship by February 15, 2019.)

(For international orders and PayPal users, please use this link instead.)

(The ebook should be available for Apple's Books on your iOS devices and the Kindle by mid-February 2019.)
No one gives you a manual on how to be a Deaf gay man.

Raymond Luczak shares stories from his days growing up as a Deaf gay man in Michigan's Upper Peninsula and learning signs in secret, trying to follow music on the radio in order to be cool like his hearing classmates, and feeling clueless whenever gay cultural icons like the Village People, Queen, and Bette Midler were promoted in his small hometown. After he graduated from high school and enrolled at Gallaudet University, he discovered gay literature and came out soon after. Luczak eventually got involved with Deaf theater collaborators, educators, and sign language interpreters, from which his worldview is substantially reshaped on issues of identity, literacy, technology, and family.

Assembly Required offers a rare in-depth glimpse into what it means to be a Deaf gay man living between the Deaf and hearing worlds. This edition incorporates Luczak's new observations from the last ten years since it appeared in 2009.

"One of the great virtues of Assembly Required is its accessibility. Not only is it written in clear prose divided into comfortable segments, but there is little academic jargon to provide a stumbling block to the reader who might be venturing into Deaf or gay literature for the first time ... There may be no better introduction to the Deaf gay life." —Wordgathering: A Journal of Disability Poetry and Literature


Raymond Luczak is the author and editor of over 20 books, including Flannelwood, The Kinda Fella I Am, and A Babble of Objects. He lives in Minneapolis, Minnesota.